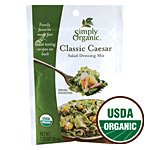 Simply Organic has coupons on their website. Go here:
http://www.simplyorganicfoods.com/simplyorganic/documents/coupons.html
If you live in California, Arizona, Texas or Colorado and have a Sprouts Farmers Market near you, they have their seasoning packets 5 for $5.00. Use two of the seasoning packet coupons to make them 5 for $3.00 or .60 cents a piece.