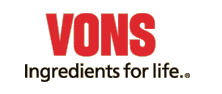 For some reason I got a Von's ad in my newspaper. Typically it comes in the mail on Tuesdays. Not sure if this is a permanent change or not.
O Organics Vitamins 25% off (full line)
O Organics Baby Food 10/$6.00
O Organics Infant Formula $18.99
There is also a coupon that can be used to buy organic produce:
.50 off any (2) mangoes here
This sale may also be applicable at all Safeway Brands stores.